Celebrity Curls: My New Hair Secret Weapon
March 15, 2015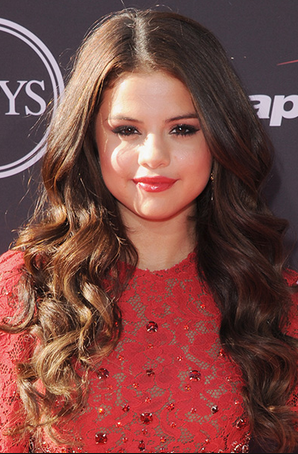 Being on TV, I have spent A LOT  of time (READ: PROBABLY MORE TIME THAN ACTUALLY ON-AIR)  in hair and make-up chairs, and when the professionals take care of me I really look and feel my best. They give me these big gorgeous curls like Selena Gomez, but I can never do my hair or make-up like the gals at CNN and Fox News Channel can — until now.
My good friend and producer of Better CT in Hartford, CT, Jamie Calli-Mascia, mentioned this life-changing tool to me last time I was there (because I was complaining about my hair, naturally) so I immediately Googled it when I got home. It's called the Kiss Instawave .
After watching a video or two — TIP ALERT: Always watch the video on the product's website IN ADDITION TO Youtube videos of average women using the product so you can see how easy (or hard) it really is to use. So like I was saying, I watched a video or two or three or four — your get the idea — and was convinced this would be the solution I've been searching for. I immediately went to Amazon Prime and ordered it for two day delivery, and when it arrived, I dropped everything and plugged this bad boy in.
It heated up in approx 30 seconds and COULD.NOT.HAVE.BEEN.EASIER.TO.USE. I have really long hair (this was before my most recent trim) and I was afraid that would be an issue. Wasn't!
It took about 15 minutes to curl my whole head — or maybe 10? I can't remember…it is genuinely fun! — and the curls lasted through the day, through the night, through the next day and into the next night. And that was WITHOUT any hair spray. PHOTO to come – I promise!
Imagine how long those curls will hang around when I blast them with some product? Check out the Kiss InstaWave website here and prepare to be amazed!