On Camera
Dorothy On Camera….
DOROTHY'S HIGHLIGHT REEL: Features appearances on every show from Chelsea Lately to The Wendy Williams Show to The Today Show and more
DOROTHY'S CELEBRITY CORNER HIGHLIGHT REEL: Features the best moments from Season 1 + 2 of Dorothy's TV Talk Show, Celebrity Corner, which aired in 8 million homes in NY, PA, NJ and DE
DOROTHY'S WORK WITH BRANDS: Features Dorothy's work with consumer brands across every lifestyle category – food/beverage, fashion, beauty, home, parenting/kids and more
Celebrity Corner SEASON 2 
"Celebrity Corner" with host Dorothy Cascerceri returned for Season 2 — this time with a live studio audience! – airing Thursday nights in nearly 8 million homes in NY, NJ, PA and DE and www.DorothyOnTV.com
Examiner.com reaches nearly 80 million readers a month. To read the full story, click here.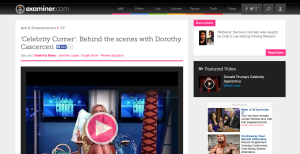 For the full article on Joonbug click here.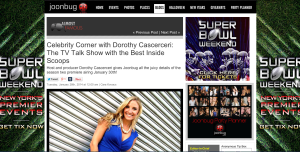 Press from Season 1 of Celebrity Corner:
CELEBRITY CORNER SEASON ONE AIRED IN THE FOURTH LARGEST TV MARKET IN THE COUNTRY – THE PHILADELPHIA MARKET – IN 3 MILLION HOMES ON WMCN44 FOR 10 WEEKS ….  Check out the article on PhillyBurbs.com here!