Dorothy On Better CT: Tips To Beat the Winter Blues
February 27, 2015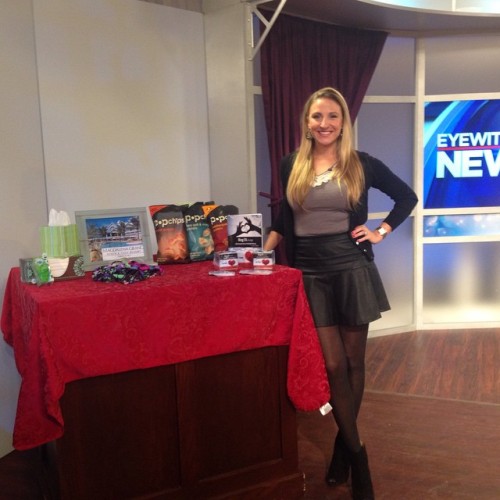 Here's a behind-the-scenes pic of my segment airing today at 3pm on Better CT WFSB in Hartford/New Haven featuring celeb-inspired tips to Beat the Winter Blues.
I predict we have approx. 1 more month of this dreadful weather. CLICK HERE TO WATCH! Or hit play below.
I shared ideas to keep those winter doldrums at bay with the hilarious Scot Haney and Kara Sundlun on Better CT on WFSB Hartford/New Haven, and we started the segment out like we were ready for the prom. Take a look! And enjoy my tips:
1. The key to surviving cold and flu season is PREPARATION. Celebs like Angelina Jolie have to be red carpet ready always, which means their skin needs to glow, even if they're sick. They can't afford to use a million tissues in a day or they end up looking like Rudolph and no amount of makeup can fix that. Your skin should glow, too, so choose a tissue thats gentle on skin — like Puffs Plus Lotion. It's the only national brand that's dermatologist-tested to be gentle on sensitive skin so you can put your best face forward.
2. Celebs like Katy Perry have to stay svelte and looking good year-round. Just because it's cold outside, they can't park themselves on the couch with every snack imaginable in their cupboards….and neither can you! Choose wisely what you eat — you will have less work at the gym when it starts getting warm and you have to get back into that bathing suit. Popchips have half the fat of fried chips and a single serving is only 100-120 calories! They come in delicious flavors like sea salt, bbq, sweet potato, sour cream and onion and more and curb those salt cravings without all the guilt.
3. If you don't like the cold, get out of it! Vivica Fox, among other stars, has stayed at The Magdalena Grand Beach and Golf Resort in sunny Tobago, and they're offering a "Beat the Winter Blues" promotion where guests who book the all-inclusive package by March 31 receive a 5th night free and 3 free rounds of golf and cart rentals. That's reason enough for me!
4. Everyone, including your favorite A-list couples, can use an extra lesson or two in communication, so if you're stuck in the house for days at a time with bad weather outside, reach for Relationship Strategist and Author Pam Evans' relationship cards. They're easy to flip through and promote healthy conversation about morals, values, etc, whether you're in a new relationship or married for 12+years. They make staying indoors fun!
Stay warm and dry, friends …. spring is coming!!!
***Disclosure: This post contains sponsored links.
***Disclosure: This post contains sponsored links.